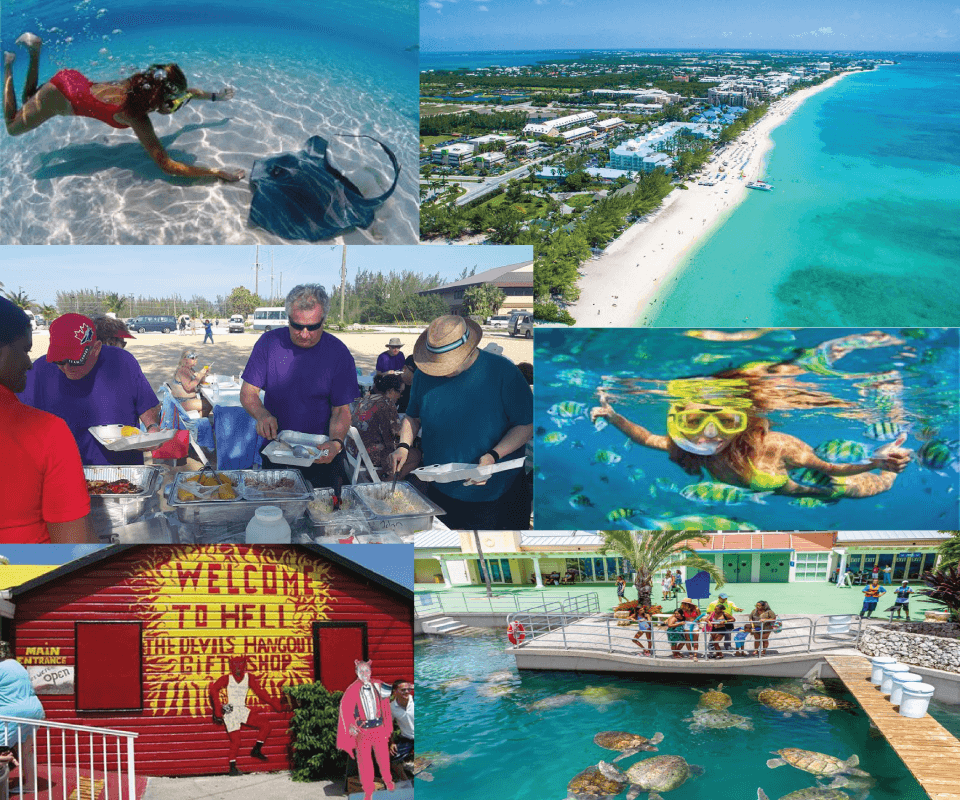 Cruise Ship Tours
While visiting Grand Cayman let Tours Cayman show you the Island from land and sea with exciting snorkel excursions that bring you to the world's famous and Islands #1 attraction Stingray City. Join us and experience our exciting trips to Stingray City, Coral Garden, and Starfish Point, and enjoy activities designed specifically for you.  
Tours Cayman also offers Island tours which include a visit to the world's largest Turtle Farm, Hell, and Seven Mile Beach. At turtle farm, you will interact with turtles from 5 ounces to 600 lbs and have a chance to hold and swim with them in the natural saltwater lagoon.
Allow us to introduce you to our exquisite tropical sea life. Interact with an abundance of southern stingrays in the crystal-clear waters of a sandbar that is only four feet deep and 4.3 miles from the shore. The tour includes a complimentary transfer to and from the cruise port, snorkeling equipment, and stingray-feeding squid.  
The tour begins at the Safe Haven Marina and lasts 4.0 hours, including a 35-minute boat ride to Stingray City Sandbar, proceeding to Coral Gardens after seeing Stingray City, where the water is 10 to 12 feet deep. At this location, you will see picture-perfect coral reefs while feeding aquatic life. The last stop is Starfish Point, which is a sandy beach with ankle-deep water on the northern side of the island. Since the starfish hang out in shallow water, this is a perfect spot for non-swimmers and families with children.
- 3 Amazing Stops Tour - Stingray Sandbar, Coral Gardens, and Starfish Point. Adult/Kids.
- Aquafest Stingray Tour - Stingray Sandbar, Coral Gardens, Starfish Point, and Barrier Reef. Adult/Kids.
- Stingray and Turtle Center Tour (Combo) -  Stingray Sandbar, Turtle center, Coral Gardens, and Starfish Point. Adult/Kids.
All tours come with a complete air-conditioned transportation service to and from all excursions. For further information or to check the availability of your desired date or about our grand cayman excursions, please contact us or call 1-345-916-5478 in the Cayman Islands.
Let Tours Cayman take care of all your tour needs while in Grand Cayman.