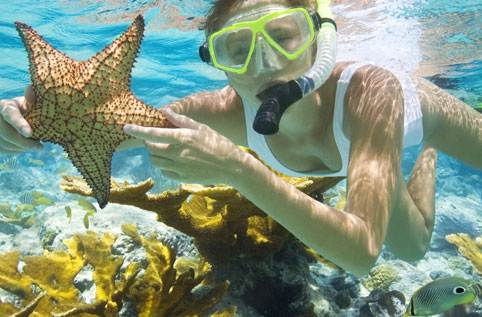 Snorkeling
Snorkel with us through the beautiful Coral Gardens and coral reefs where some of the most exquisite tropical sea life awaits. Enjoy the variety of endless coral that spans the Barrier Reef.  
Coral Gardens
Coral Gardens is located in various locations about 200 yards south of the coral reef. Here you'll encounter an incredible variety of tropical fish, stunning Moray eels, amazing underwater plants, and an array of other sea life. This is a great option for young kids as we can back the boat right up to the coral heads, which are only in 8-10ft of water.  
Coral Reef
Our Coral Reef stretches all along the North, East, and South sides of the island and is 10 feet of clear, turquoise water. It separates the open Caribbean Sea from the shallow waters of the North Sound. This shallow body of water is sheltered by this magnificent reef that protects our snorkel areas from large rolling waves, making the waters much calmer for us in the bay.
Masks, snorkels, and life vests are provided at no extra cost for your convenience.