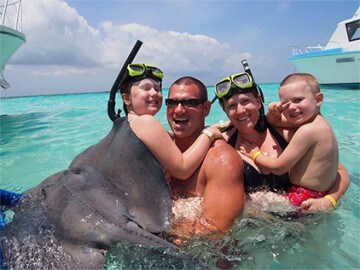 At Tours Cayman, our objective is to provide an authentic, Caymankind, guaranteed personalized experience and guided tour to our guests, complete with our friendly, knowledgeable, and experienced staff.
Tours Cayman is a local family-owned company with over 20 years of experience in tour excursions and the watersport industry. Tours Cayman is located at the SafeHaven Marina, 15 minutes north of the Cruise Ship Pier in George town off the Seven Mile Beach.  
Tours Cayman offers a variety of unforgettable guided tours from Snorkeling tours to Stingray City excursions, private boat trips (ultimate personalized adventure), beach barbecue, and shore excursions.
Explore Grand Cayman on our island tours and enjoy a beach barbecue with an incredible view. Tours Cayman shore excursions include guided island tours and visits to the Cayman Turtle Center. Boating activities include snorkeling at the coral gardens and coral reef (barrier reef), visiting with the starfish at starfish point, and the world-famous Stingray City Sandbar for interacting with our southern Atlantic stingrays for small and large groups traveling together.  
We offer complimentary pick-up and drop-off from the Cruise Ship Pier and along the seven-mile beach for your convenience.
Click here to book your excursion today!